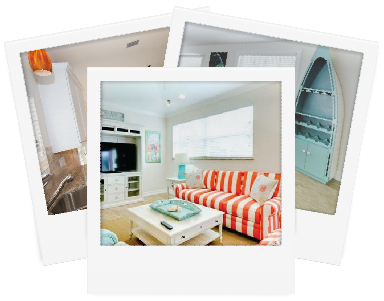 When a home is chosen as a remodel project we want to accomplish one thing, repurpose an existing home to what we feel a beach home should look and feel like. Each home is different in the changes that are necessary to accomplish our goal, so each strategy may be different, but there are definite "must haves" in a beach community.
First we believe the curb appeal should establish it as a beach home through the use of vibrant colors and great landscaping. Next, as you walk through the door, that feeling needs to be reinforced by the tropical décor, with flooring and furniture that fit the island atmosphere. Then the back yard should serve as a private tropical escape, with lush landscaping, pool, and hot tub.
We understand it is not all about atmosphere. It's also important to live comfortably and practically in the home. With that in mind, the kitchen and bathrooms are updated, which could include all appliances. The roofing, structure, and windows are updated if needed. As we update we incorporate as many energy saving strategies as possible to increase the performance of the home and reduce the maintenance.
In the end we provided a homeowner the ability to enjoy a beautiful updated home, that fits the beautiful beach community and the lifestyle and feel the owner desires.